| | |
| --- | --- |
| | TG-10STX UHF PLL Stationary Transmitter |
SYSTEM FEATURE
With UHF PLL 16 preprogramed selectable frequencies, the mini receiver with wireless transmitter can provide in-ear monitoring for the performance on stage.
The system provides the highest audio quality, interference-free transmission reliablity.
1/2 19" EIA standard rack mountable case. Combine two transmitters in a 19" rack by using optional rack mount kit.
Feature a 6.3 mm mic. input and a XLR balanced input for varicus audio compatibility.
Top audio quality is assured by low noise circuitry and a sophisticated audio processor.
---
TG-10STX Specification
Combined with TG-10STX, TG-10 system could be installed for wireless interpretation, lecture, multi-language conference with large coverage, allowing participants of any nationality to freely follow the speech.
• Carrier Frequency Range: 502~960MHz.
• RF Output Power: 10 mw.
• Nominal Frequency Deviation (modulation): ±40 kHz.
• Audio Input Impedance: 20kΩ.
• Nominal Input Level: - 20 dBV.
• Maximal Input Level: 0 dBV.
• LED Display: AF Level, Channel.
• Audio Input: Connector2 x Balanced XLR, φ6.3mm phone jack.
• Audio Output: Connector1 x φ3.5mm phone Combo Socket.
• Loop Out Connector: 2 x φ6.3mm Balanced Loop Out Socket.
• Operation Voltage: DC 12-18V, 600 mA.
• Net Weight: 1300g.
• Dimension: 239(D) x 210(W) x 44(H)mm.
---
Global mutual names of the Meicheng TG-10STX IN-EAR Monitor Transmitter are Multilanguage Translation System, Mehrsprachiges Übersetzung System, Système traduction multilingue, Sistema traduzione multilingue, Sistema traducción

multilingue, Simultaneous Interpretation, Simultane Deutung, Interprétation Conférence, Interpretazione Simultanea, Interpretación Simultánea, Simultaantolken, Conference System, Konferenzanlagen, Systèmes Conférences, Sistema Congresso, Sistema Conferencia,

L

isten Transmitter,

L

istening System, Audio Conference, etc.
---
Celebrate the founding of the century, International Peace Forum held on August 25th and 26th, 2011.
For the first time, "International Peace Forum" held in Matsu, using Meicheng International Conference System / Wireless Simultaneous Interpretation System / Simultaneous Interpretation System.

| | |
| --- | --- |
| ◆ | TG-10STX Wireless Simultaneous Interpretation Transmitter / Simultaneous Interpretation Transmitter |
| ◆ | PA-100 DigiRec Microphone. |
| ◆ | WT-480R Wireless Simultaneous Interpretation Receiver / Simultaneous Interpretation Receiver. |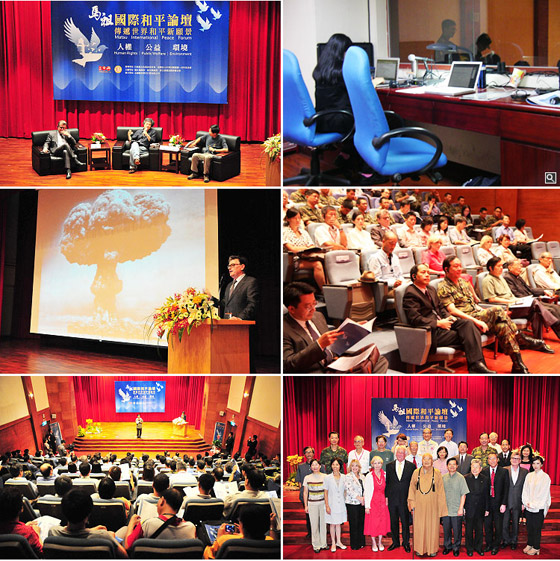 ---
Application Performance :
DISTRIBUTION - GLOBAL MARKETS

| | |
| --- | --- |
| ◆ | Infocentre (The New Rijksmuseum). |
| ◆ | National Great Blacks In Wax Museum - 1601-03 East North Avenue Baltimore, Maryland 21213. |
| ◆ | National Museum of Health and Medicine - 6900 Georgia Avenue and Elder St., NW Building 54 Washington D.C. 20306. |
| | Muzejski dokumentacijski centar - Ilica 44 / II. Kat 10 000 Zagreb Hrvatska. |
| ◆ | CROATIAN NATIONAL TOURIST BOARD (CNTB) - City walls Iblerov trg 10/IV 10000 Zagreb Croatia. |
| ◆ | Broelmuseum - Broelkaai 6 Kortrijk, Belgium. |
| ◆ | The Chocolate Museum - Wijnzakstraat 2 (Sint-Jansplein), 8000 Bruges. |
| ◆ | Museum of the Wool and Fashion - Rue de la Chapelle 30 - 4800 Verviers - Liege. |
| ◆ | Arsene Lupin Museum, Etretat, FR. |
| ◆ | Hopmuseum - Gasthuisstraat 71, B-8970 Poperinge. |
| ◆ | Spilliaert, retrospective - Museum for Fine Art, Brussels, BE. |
| ◆ | Maritime Museum, Greenwich - London SE10 9NF England. |
| ◆ | Museum of the Wool and Fashion, Verviers. |
| ◆ | Malraux Museum, Le Havre, FR. |
| ◆ | Derby Museum and Art Gallery, Derbyshire, UK. |
| ◆ | Hastings Museum and Art Gallery, UK. |
| ◆ | Salt Mine Museum, Bochnia, PL. |
| ◆ | Museum of Gruyere, Gruyere, CH. |
| ◆ | Galtronics Corporation Ltd. |
| ◆ | Prodas Consulting B.V.B.A. |
| ◆ | Alto Products Im- und Export GmbH im Branchenbuch Dusseldorf in Export und Import. |
| ◆ | Giverny Trading & Engineering. |
| ◆ | Musiconair. |
| ◆ | AFETUR TRAVEL LTDA. |
| | |
| ★ | Please refer to the recommended E-paper content from College of Humanities and Social Sciences in National Tsing Hua University : epaper.hss.nthu.edu.tw/28/a2.htm |

| | |
| --- | --- |
| | Meicheng Multilanguage Translation TG-10STX system: |
| | The Meicheng Multilanguage translation TG-10STX system is a compact and highly durable device, specifically designed for public usage. The Meicheng Multilanguage translation guide compact offers all of the basic functionalities of a classic audio player. The visitor can adjust the volume. The Meicheng Multilanguage translation audio guide can also be used to conference. Commentary is available in all the languages that you believe are the most convenient for your seminars! |
| | |
| | Meicheng Multilanguage Translation and Professional Wireless Tour Guide System Can Support Many Different Important Occasions: |
| | Multilanguage Translation Convention, Exhibition, Multilanguage Translation Business Events, Professional Exhibition, Translation, Multilanguage Translation Meetings, Multilanguage Translation Conference, Gathering, Multilanguage Translation Congress, Multilanguage Translation Assembly, Council, Multilanguage Translation Seminars and symposia, Workshops, Multilanguage Translation Trade Show, International Conferences Interpreters, Business Translation, Business Correspondence, Company Presentations, Multilanguage Translation For The Media And Press, Multilanguage Translation Lectures, Teachers, Coaches, commentary, promotion. |
| | |
---